Shim Jang Taekwondo Class & Lesson Fee Structure
World Class Instruction at Realistic Prices
Shim Jang Taekwondo is confident that no other organisation can match the value we provide to our members. At Shim Jang Taekwondo we work hard to keep our fee prices low, this enables the art to be accessible to everyone including family groups and we always encourage beginner students to take advantage of a FREE, no obligation lesson before joining.
Ours is a large organisation that prides itself on its transparency, in the martial art industry you can only grow if you offer a quality style and expert tuition, in this department Shim Jang Taekwondo leads the way
Our schools are all overseen by our founder Master Les Hicks and his longest serving student Master Steven Turner. Les and Steve are constantly monitoring the overall standard of the students, instructors and Regional Representatives, they are both no-nonsense, strict and fair Instructors who only have the academy's best interest at heart. This kind of devotion is a rare thing in the martial arts today and we are all very proud of our organisation, Instructors and Students.
NOTE; Membership, Merchandise, Uniforms and Registrations are all available NOW from this website
Membership
After your first lesson you will need to join the organisation, your initial membership fee is non-refundable and registers you with the W.S.T.A, The W.S.T.A. is the National Governing Body (NGB) for all Shim Jang Schools throughout Australia, New Zealand and Internationally.
W.S.T.A Membership Fee
$30.00 (Great Value!)
Insurance
All Shim Jang Taekwondo Instructors are licensed professionals and as such they all have their own Professional Indemnity and Public Liability insurance, please feel free to ask to see their W.S.T.A instructors licence at anytime.
For your own peace of mind and in keeping with our professional approach to operating our centres, each Shim Jang Taekwondo member is covered by a "Basic Personal Accident" Insurance coverage which is included with their Annual Registration. Note; unregistered members are NOT permitted to train at any centre.
Annual Registration
$30 (1 year)
$75 (3 years)
$99 (5 years)
Training
Shim Jang Taekwondo members are not asked to sign expensive long term fee contracts (you only pay while you are training). We do not direct debit and fees can be paid by either cash or cheque at the beginning of each month to your Branch Instructor.
Throughout Australia and New Zealand our training fee is structured on a monthly basis and as such you pay one low monthly training fee and you can train at any of our centres at no extra costs!! In most area's we have numerous training centres operating on different days so in many cases our members are able to train up to 5 nights a week for the one small training fee. It's great!!
Money Back Guarantee ! "our commitment to you"
At the World Shim Jang Taekwondo Academy our Instructors are confident that you will benefit from their classes, If you are not fully satisfied within the first 30 days we will refund 100% of your training fees.
Monthly Training Fee
(no contracts or direct debits)
Each student $60.00 per month.
Note; Family discounts are available at some centres, see your Branch instructor for details
As you can see our monthly training fee is quite low enabling the whole family to enjoy the many benefits that the art has to offer, quite simply the more that train the cheaper it becomes!!
e.g. if a student was training 4 lessons per week it would cost less than $3.75 per lesson each!! (amazing value).
Gradings
As a student of Shim Jang TKD you are required (for safety & instruction purposes) to display the rank appropriate to your experience and skill, this enables the instructor to teach you the necessary techniques required for you to continue your advancement within the art.
Rank examinations are formal events and are personally conducted by officially appointed examiners throughout Australia and New Zealand.
Gradings are held 4 times a year (if the student is ready) and they follow established protocol and guidelines (they are also a whole lot of fun).
Note: Shim Jang Taekwondo is a professional organisation therefore the health, safety & well-being of the student always comes first and examination requirements are occasionally modified and tailored to individual requirements.
Grading Fee; 10th Kup (white belt) thru to 1st Kup (brown belt with black stripe):
$50.00 per exam (includes coloured belt)
Uniform
New members are not required to purchase uniforms immediately after joining, we recommend that you train a while and make sure that you will continue before going to the expense of purchasing a uniform which is quite reasonably priced and available through your Branch Instructor at any time after joining.
Official W.S.T.A. Uniform Fully printed with white belt included
$69.95 including postage
NOTE; Prices can vary slightly from region to region due to postage costs etc but "Online Prices" are fixed and incur no postage charge, therefore we recommend you do your membership and merchandise purchases ONLINE to access substantial savings.
Let's Go!
You have absolutely nothing to lose because your first lesson is absolutely free of charge and there is no obligation to join !
Feel free to lookup your local centre here on our website and visit us at anytime.
So what are you waiting for?
Take the 1st step to a healthier, safer & happier future today!!
Photos
(Click photos below to enlarge)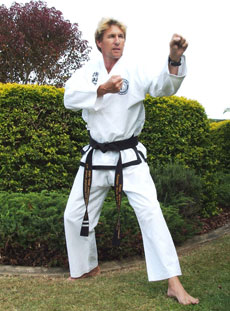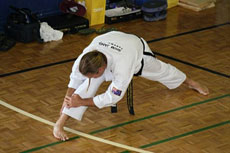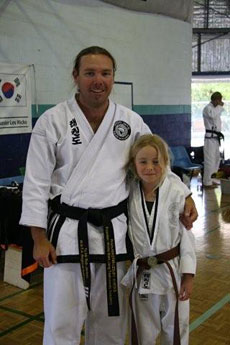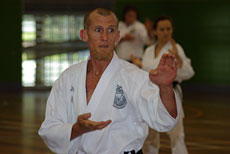 WSTA EVENTS
News
Number of news items returned: 1 to 1 records of 3
13 February 2014
(630 views)
Hi everyone !..... in this issue I want to share some insight into the difference between our Style of Taekwondo ...
View All

WSTA NEWS
News
Number of news items returned: 1 to 3 records of 22
View All