Petrie
Petrie
Class Facebook Page
11-13 Eacham Street
Queensland 4502
Class Times / Venues
Tuesday - 6:00pm to 7:00pm Kurwongbah State School - Eacham Street Petrie Q. 4502
Thursday - 6:00pm to 7:00pm Kurwongbah State School - Eacham Street Petrie Q. 4502
Shimjang Taekwondo Brisbane North is welcoming new members now!
Who will be my Instructor? Petrie Dojang is run by Senior Branch Instructor Michele Graham
We Offer: Michele welcomes both Children from the age of 5yrs and All Adults to come and Try a Free Trial Class!
*Professional Instruction from beginners to advanced!
*Free Trial Class!
*Free Uniform for all New Members!
*No Grading Fees Ever!
We Teach:
* Traditional Shimjang Taekwondo!
* Powerful Self Defence!
* The Values of Integrity, Loyalty & Respect!
Join this Class
or
Book your free Trial Lesson
Upcoming Events
CHECK THE EVENTS PAGE FOR UPCOMING GRADINGS
TIME
:
Arrive 5.30pm for 6.00pm Start
EXAMINER: AGM R. Jensen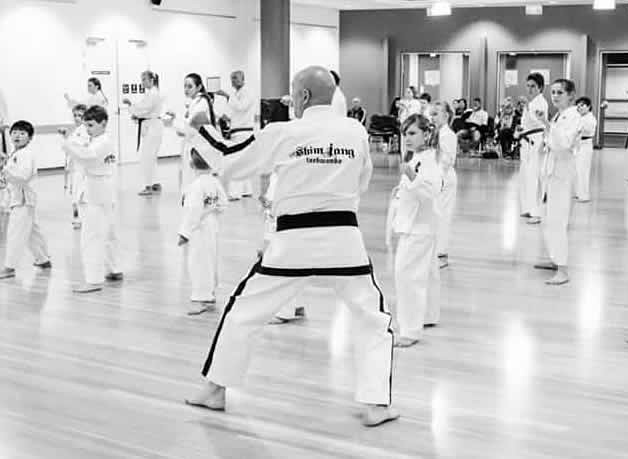 Your Instructor
Name: Craig Graham
Regional Advisor/Branch Instructor
Narangba Dojang

One of the most important roles within the Shim Jang Taekwondo Organisation.

Craig has been involved in Taekwondo for the past 13 years, he commenced training in 2008 at the age of 48 years with Wife Michele and Daughter Kaitlyne, working hard on fitness and technique.

After suffering spinal fractures from a motorcycle accident in 2010, laying him up for 2 years, Craig with perseverance, support of family and Taekwondo friends he was able to return to his journey with Taekwondo. Thence he was then able to go on and achieve his 1st Dan Black Belt in 2014 at the age 54.

Craig's partner Michele and daughter Kaitlyne, having always trained together as a family, were able to also achieve black belts in the same year. Craig was then able to go on to became an instructor, helping others to develop and attain a knowledge and the benefits of the martial art of Taekwondo.

After a few years as an instructor with another club, Craig switched to Shimjang Taekwondo to continue his journey toward developing a stronger and better knowledge of Taekwondo and give back to others so they may find the benefits of health the enjoyment and the self-achievement that is available with Taekwondo.

Shim Jang Taekwondo Branch Instructors are indeed a "Special Breed" of martial artist, their dedication to the art and its members is first class and they relish the responsibility of operating and managing a class in accordance with the WSTA guidelines.
Our Branch Instructors have diligently worked their way to their positions by way of a unique training process that provides them with the knowledge and ability to confidently teach, manage and administer at this important level.

Once they have achieved an acceptable level of skill and served time as a Trainee Instructor our Branch Instructors are then "Hand Picked" for their position by our Founder (Grandmaster Les Hicks) and his expert team of Master and Regional Instructors.
This gives our members the confidence and peace of mind in knowing that their instructor has not been rushed or forced into their position before they are properly and professionally equipped to deal with the responsibilities attached to becoming a qualified and successful Branch Instructor in the art of Shim Jang Taekwondo.