Our Team
Master Greg Dovey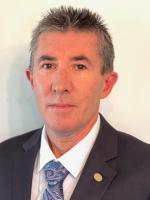 NAME; Greg Dovey

RANK; 7th Dan Black Belt

POSITION: Assistant Grandmaster / Membership Support


PROFILE; Master Greg Dovey began his Martial Arts Career as a teenager in the 1980's but his interest really peaked when he discovered the art of Taekwondo back in the mid 1990's. It was then that he joined a local Taekwondo centre at Rathmines in the NSW Lake Macquarie area, after his promotion to Black Belt, Greg was then appointed as an assistant Instructor and in the early 2000's he took over what was then a struggling Rathmines class that was suffering from a serious lack of leadership.

Greg set about turning the struggling centre around by creating a positive atmosphere for his students to train in, with some hard work and by providing some first class instruction, Greg saw the Rathmines Dojang double in size in just a few short months. Greg and his wife Joanne (herself a 5th Dan Master Instructor) now support numerous centres throughout the Newcastle, Lake Macquarie area.
Master Greg is a loyal instructor of high integrity who works extremely hard in his position as Membership Support to ensure that all members of the organisation are well informed and represented.

Master Greg Dovey typifies the organisations code....Integrity, Loyalty and Respect.