Our Team
Aylsa Mitchell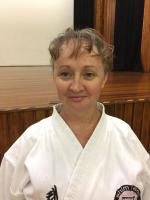 NAME: Aylsa Mitchell

POSITION: Dojang Assistant

Dojang Assistant is a very important position within our local Branches;

It is a WSTA requirement that all members above the rank of Black Belt are licenced within the WSTA Black Belt Qualification Framework and are officially appointed as Dojang Assistants.
When a member reaches Black Belt level they are not automatically required to go out and open a Branch of their own but they must be willing to accept some responsibility within their local Branch if required, this is seen as the next step in a student's development and as a matter of course requires the student to "Step Up" to a higher level by way of exercising common sense and accepting more responsibility.

On occasion the Dojang Assistant will be required to help their Branch Instructor with various duties such as assisting a member with patterns or holding the kick/strike shield etc as requested by the Branch Instructor during the normal course of class operation, this is an important and necessary part of the Black Belt members ongoing training and martial art development.

ALL Black Belt members are required to assist and support their Branch Instructor, and indeed their fellow members, this ongoing and regular training is done under the guidance of a licenced Branch Instructor and ensures that our Black Belt members (Dojang Assistants) are viewed by our members as responsible and professional individuals who are an important and necessary part of the Class.
Thanks to the WSTA's professional approach and the high expectations placed on the Black Belt members, many of them grow not just as martial artists but also as important and respected members within their local community.

Each Class has an appointed "Senior Dojang Assistant" who is the Branch Instructors personal assistant, they are well educated in all aspects of Branch management and can confidently take the Branch Instructors place during his/her absence.