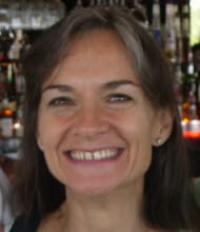 Tina's Corner September 2015
16 September 15
Getting to Know Our Instructors.
In this edition we ask Senior Instructor Kerri Yarsley a few questions.
Q: Where is your Centre.
A: I am fortunate enough to train at Burleigh Heads State School with Master Instructor Steve Buck
Q: What is your rank.
A: Third Degree Black Belt.
Q: Do you have an Assistant Instructor.
A: Scott Wallace - First Degree Black Belt – is a great Assistant Instructor as he continues to learn all the time and is willing to help with anything. He shows great self-control and respect for others, and encourages the students to do likewise. In this age where people are sometimes lacking in these virtues, especially as their own self-importance is uppermost in their thoughts and actions, an awareness and consideration for others stands out like a beacon on a rocky ledge.
Q: What is your favourite technique.
A: Triple punch to the upper body, then right Inner Crescent kick to the head.
Q: What is your Marital status.
A: I have been married to Frank for 35 years and three out of our four kids attained their black belts. The other one reached Brown Tip level before losing interest to pursue Gymnastics and Dance.
Q: What do you do for a living.
A: During the working week, I am a contract Technical Writer/ Business Analyst, which means I analyse and write documentation (manuals, training materials, policies, procedures, etc.) for corporations and governments mainly in the IT sector. I used to be a Systems Programmer before kids came along and then went into the documenting side so I could work from home. I have also authored and self-published my first book, "The Instruction Manual for Kids – Parent's Edition" and spend any additional time marketing and networking to raise brand awareness for the book.
Q: What is your favourite TV show.
A: Currently, Madam Secretary, though I love Bones, Castle and The Blacklist.
Q: What do you do in your spare time.
A: What spare time? I usually have a one or two hour massage each week and outside of that I am currently making an audiobook of my book to have it ready prior to Christmas and also have plans to create a Concise version of the book for those who don't read lots of text. We are also just finishing off renovations to our house which has been an ongoing venture for the last 11 months.
When I have more time in future (still dreaming of it?) I shall pick up some of my earlier pursuits of oil painting, piano, guitar, flute. I want to learn the violin and chanter.
Q: Do you have a favourite quote.
A: I have many, but one of my favourites is: "Right thoughts, right speech, right actions, bring happiness" from a very special Thai Buddhist monk - Phra Ajahn Plien.
Q: What type of music do you like.
A: All sorts from classical, jazz, acapella, rock, and easy listening. It depends on my mood, but I need to have music that has a distinct beat generated from actual analogue/acoustic instruments, and, if a vocalist is involved, they need to be on beat, on pitch and in tune with the instruments. Flat singing makes the hairs on the back of my neck stand up!
Q: What other sports do you follow and do you have a favourite team.
A: I am a mad keen Bombers fan (AFL) as I grew up in Essendon and walked past Windy Hill every primary school day. My father and grandfather were keen supporters as well, though I don't think they disliked the umpires as much as I did.
Frank and I joined the Gold Coast Suns Football Club (AFL) for a couple of years, but discovered we don't have enough time to see all the games as we are too busy pursuing our other goals.
I like watching the ODI Cricket, especially when the Aussies are flogging the Poms. I find Test cricket particularly boring but I like 20/20 !
Thanks Kerri !
Tina Johnson
5th Degree Master Instructor
World Shimjang Taekwondo Academy