Our Team
Brad Cox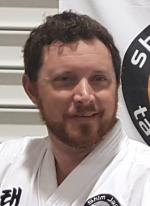 NAME: Brad Cox

RANK: 2nd Dan Black Belt

POSITION: Branch Instructor

Shim Jang Taekwondo Branch Instructors are indeed a "Special Breed" of martial artist, their dedication to the art and its members is first class and they relish the responsibility and burden of operating and managing a class in accordance with the WSTA guidelines.
Our Branch Instructors have diligently worked their way to their positions by way of a process that provides them with the knowledge and ability to confidently teach, manage and administer at this important level.

Once they have completed their Dojang Assistant Training and served time as a qualified Assistant Instructor our Branch Instructors are then "Hand Picked" for their position by our Founder Grand Master Les Hicks and his expert team of Master and Regional Instructors.
This gives our members the confidence and peace of mind in knowing that their instructor has not been rushed or forced into their position before they are properly and professionally equipped to deal with the responsibilities attached to becoming a qualified and successful Instructor in the art of Shim Jang Taekwondo.


Instructor Brad Cox has trained in Taekwondo since 1997, and has assisted with teaching classes for years. His passion and patience combined make him an excellent instructor for all ages. His sporting background includes running and track, modern exercise techniques for weight loss and fitness, and even American Style Grid Iron football! Brad enjoys teaching the art at the Idalia dojang in Townsville. Brad is committed to working diligently across Townsville to assist and further the growth of Shim Jang Taekwondo.